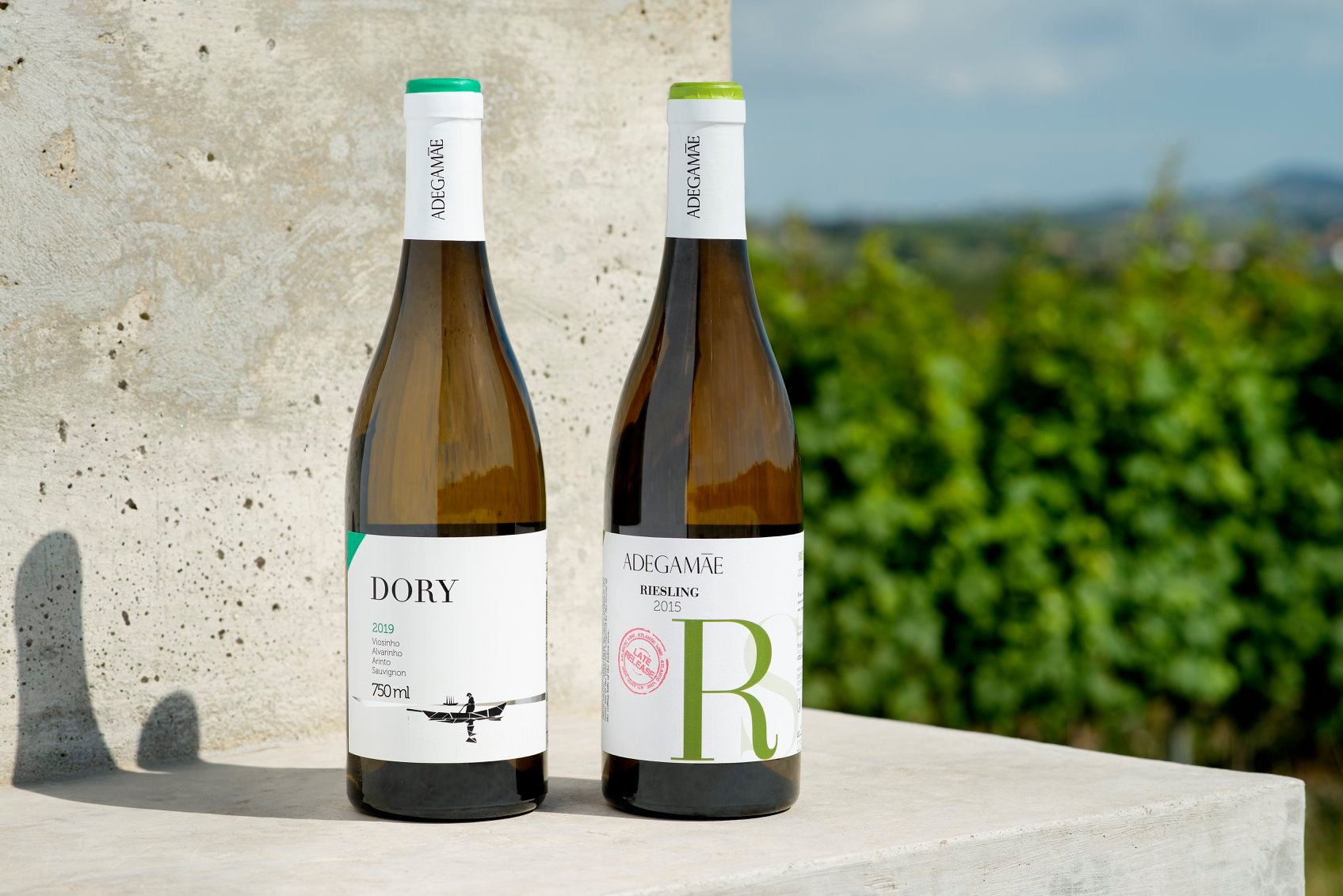 AdegaMãe welcomes summertime with the launch of a new White Dory and an unprecedented "late release" Riesling.
White Dory it is the landmark wine at AdegaMãe. It established itself upon its very first harvest, back in 2011, through its exceedingly fresh and mineral profile, its aromatic elegance and a very consistent and delicious expression of the Atlantic terroir. It won over wine lovers and, now, in anticipation of the hottest days of the year, it is presented in a new blend, subtly reinforcing every aspect of its Atlantic character and salinity. The new 2019 White Dory has arrived, packing some of that Sauvignon Blanc condiment (alongside long-standing Viosinho, Alvarinho and Arinto) to make up a blend of outstanding freshness and aromatic seduction. Welcome summer!
The range of AdegaMãe whites is thus updated with this house staple, but will also be accommodating something new: a product of several experiments developed around national and international grape varieties. Hence, a new 2015 AdegaMãe Riesling will also be launched on market. This "late release" spent five years aging in the bottle and combines the freshness and complexity of Riesling while properly conveying the Atlantic terroir influence from western Portugal.
Diogo Lopes, winemaker at AdegaMãe, introduces these new arrivals: "Due to the discrete presence of the Sauvignon Blanc, at the expense of the Viognier, the White Dory further enhances its trademark freshness and distinctive aroma. This wine shows a very consistent profile. It makes us extremely proud because it somehow managed to become an icon while incorporating the aspects that best define the Atlantic terroir in a very seductive way: that fresh, mineral character and the saline hints that are intrinsic to our region", says, before presenting the 2015 AdegaMãe Riesling: "This is the result of several experiments we have been conducting with some of the main grape varieties. With this Riesling we intend to explore a more intricate profile, partly due to the time it spent aging in the bottle. Some of the main attributes of this variety are quite evident, such as its peculiar acidity. This wine proves to be very special".
2019 White Dory
Vinification: Lightly pressed, decanted at low-temperature, fermented at 14-15ºC for 15 days, then batonnage on fine lees for four months.
Tasting notes:The nose boasts a mix of tropical fruits and grapefruit. Framed with minerality and refreshing acidity, fruit is also evident on the palate. Saline finish.
Recommended retail price: 4,99€
2015 AdegaMãe Riesling
Vinification: Total destemming, light pressing, cold decantation, fermentation in stainless steel vats at a controlled temperature (15-16ºC), for 15 days. In batonnage for 6 months.
Tasting notes: Intense aroma of tangerine and apricot. Light Floral. Acidity typical of the variety, with a lemon and savory salty finish.
Recommended retail price: 14,50€